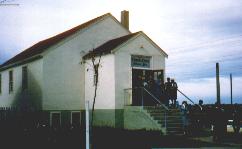 The Moose Jaw congregation began in 1942, when Clifford & Margaret Nelson, Art & Elida Dods and Olaf & Evelyn Aasen moved into the city from out lying areas. It was June 14, 1942 that marked their first worship service together.They met in their homes for worship each Lords Day and were often assisted by visiting men from other congregations.
In September 1944 the first "protracted Gospel Meeting" was held by Brother H. A. Rogers. For this meeting a Boy Scout Hall was rented. Due to other families moving into the city, this hall proved to be adequate for the needs of the congregation so it was rented on a continuous monthly basis for worship services.
During the next year plans were being considered to build their own place of worship, and with financial help from other Christians, a lot was purchased, with construction soon to take place. It was then that Brother Wilfred Orr with his family moved to Moose Jaw. He assisted the congregation by preaching and overseeing the construction of the new building which opened November 28, 1948.
The first appointment of Elders took place in August 1955, and later that fall followed the appointment of Deacons. By the year 1960 the congregation had outgrown its present building, after much deliberation it was decided to purchase some available lots in a different location and once again build another meeting house.  Construction began April 1, 1964 and was completed for opening that fall. This is our current facility and has served the congregation adequately.
At the present time this congregation does not have elders and deacons, but the business affairs are taken care of by willing men of the congregation.Even though there are no elders or deacons at this present time, this congregation has been blessed over the years by having the following men serving in that capacity.
ELDERS:
Mervyn Buckingham, Clarence Bien, Earl Jacobs, James Lidbury, Mervyn Goodwin, Roy Clarkson, Emerson Goud, Calvin Young, Ed Elford and Paul Wenaas.
DEACONS:
Maurice Buckingham, Morris Bailey, John Bryant, Don Gates, George Fowler Sr,  Lew Young, Dan Goud, George Fowler Jr., Hugh Gannon, Grant Hannan, Douglas Thiessen, Malcolm Tarrant and Donald Maxwell.
THOSE WHO HAVE SERVED AS MINISTERS:
Wilford Orr, Roger Peterson, Walter Hart, J.C. Bailey, Bruce Tetreau, Leo Owen, Gene McCarty, Emerson Goud, Allan Yarema, Hugh Gannon, Dwight Morris, Ronald Hegdahl, Darin Ashby, Darrell Buchanan.